Final: Hillsboro 8 Smoky Valley 14

Smoky Valley 14 Hillsboro 8 early in the 2nd quarter.

HS FB heads to Smoky Valley tonight in a matchup of 2 undefeated teams. Game time is at 7:00 pm. You can also watch the game live at live.smokyvalley.org

CC Medalists at Herington yesterday: Emersyn-3rd, Moriah-6th

Hillsboro defeats Smoky Valley 18-25, 25-22, 25-23

Hillsboro defeats Lyons 25-16, 27-25

VB heads to Lyons tonight for a CKL triangular with Smoky Valley and Lyons. Matches begin at 5:00 pm.


Girls tennis results this last week: Callie Plenert finished 3rd at Smoky Valley and 6th at Hesston in #1 singles.

Wamego CC medalists from Saturday. Emersyn - 12th, Ainsley - 23rd, and Moriah - 26th out of 119 runners from across the state.

Hillsboro volleyball finishes 3rd today at the Southeast of Saline Invitational.

Hillsboro activities today: Tennis at Hesston Volleyball at SE of Saline Cross Country at Wamego. Go Trojans!

Final: Hillsboro 25 Hesston 14

Wichert scores on a 96 yd pick six with 1:33 left in the game to give Hillsboro a 25-14 lead.

Potucek 7 yd pass to Wichert. Wichert kick good. Hillsboro 19 Hesston 7. Early in the 3rd quarter.

Halftime: Hillsboro 12 Hesston 7

Potucek runs it in from 11 yds out. pat failed. Hillsboro 12 Hesston 7. 8:42 left in the 2nd qtr.

Hesston scores first but Hillsboro answers with a Harris 3 yd run. Hillsboro 6 Hesston 7 with 3 minutes left in the 1st quarter.

Hillsboro vs. Hesston Joel Wiens Stadium 7:00 pm Game will be livestreamed on NFHS and also on KSKU 106 radio.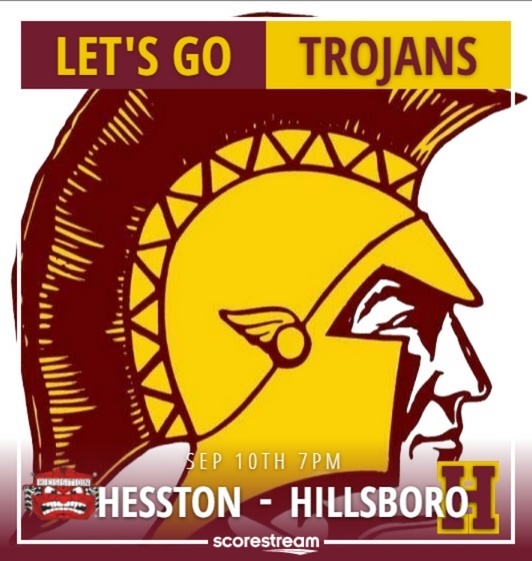 Girls tennis heads to Smoky Valley today. Matches began at 10:00am. MS VB and FB play at Hesston tonight. VB at 4:30, FB at 5:00.

Varsity Cheney over Hillsboro 25-14, 25-20 Cheney over Hesston 25-13, 25-8 Hillsboro over Hesston 25-17, 11-25, 25-16